Our Complete & Thorough Process
When you're the with problems for water damage, our fast response team can be on site within 30 minutes!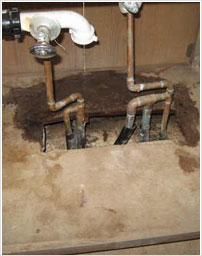 1. Water Damage Cleanup Assessment
We start our process by studying any flood damage or water damage before we start.
2. Water Extraction
The 2nd step we adhere to is to extract all the water inside the house or business thoroughly. This is the start of the water damage or flood damage restoration.
3. Drying
Once water has been extracted using our specific equipment, we carefully dry contents and walls inside your home, while checking for bacterial growth, and removing all odors, mold, mildew, dirt, and dust in the home. This is the most important step in the process because mold and mildew if not properly removed can have serious health considerations as well as cause structural hazards.
4. Water Cleanup / Flood Cleanup
Once those steps have been thoroughly done, our skilled team removes any contaminated debris! When everything is cleaned up, your water damaged area will look brand new!
Most Effective Equipment
We use only the latest and most effective equipment when restoring businesses or homes back to pre-loss conditions. Air movers, blowers, dehumidification machines, air scrubbers, moisture meters, as well as disinfectants, sanitizers and odor control purifiers guarantee that we can make your home look brand new and without any structural damage.
Related Services
Assessment Of Damage
Water Extraction
Dehumidification
Surface Drying
Decontaminate Areas
Debris Removal
Prompt & Professional
Sanitize Affected Areas
Flood Cleanup
Sewage
Cleanup
Latest Equipment Used
Direct Insurance Billing
Crawl Space Cleanup
Damaged Carpet Removal
Air Cleansing
I.I.C.R.C Certified, Licensed Technicians
On Site Within 30 Minutes
Disinfecting
Basement Drying